I have had my trumpet for nearly 5 years and I love it.
When I was trumpet shopping, I tried several dozen horns of "top" name brands. I was astounded with the tremendous variation of playability within horns of the same brand, make and model, and how much I disliked each horn I was fed up after several months of searching and disappointment with these top brands. Then David O'Neill told me about his success with ZeuS trumpets and that you would be at one of his concerts in the Detroit area.
I was skeptical, until I tried the horn he played when the concert was over. I loved it! I could feel the quality of the horn even before playing, I was amazed by eh valve action. But the moment I played it was the moment I found my dream horn. Never before had I been able to play with such ease of the air flow. The trumpet simply felt right. Yet my skepticism hadn't eased, as there were 3 other trumpets on your table. I was afraid I would find them to be different, as I had found all the other brands. But I was wonderfully mistaken. Each other horn played just the same. same action, same ease of air flow, same incredible tone. The tone is far superior to many trumpets I've heard. It is so sweet and warn and I love making such a beautiful sound.
I've found the mouthpiece to be superior as well. The ZeuS E3 that I have is the perfect balance of depth and openness that allows me to play in both high and low ranges with ease and good tone. I've recommended this mouthpiece to every trumpet player I know and 2 have purchased it. It gives me a tinge of satisfaction to have convinced them to buy a great mouthpiece when they thought they'd played on everything (both are old enough to be my father, and then some).
I am about to enter my 3rd year at Purdue and my 3rd season with the Purdue bands. I participate in 4 ensembles, most notably the Purdue All-American Marching Band. I have traveled to many places with the band, including Orlando, Minneapolis Dallas, and Beijing China, My trumpet has been around the country and around the world. I will return to the bands as one of seven section leaders and my trumpet will be my steady companion the whole way. Thank-you for making and selling a product that surpasses all others in overall quality. I look forward to doing business with you in the future.
Thank You, Anna Holt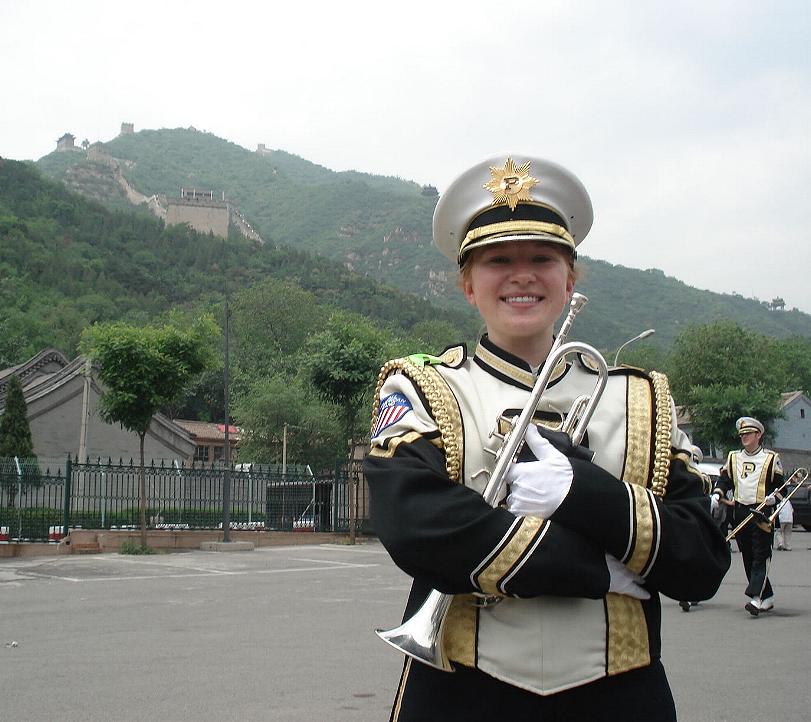 Anna Holt at the Great Wall of China with her ZeuS Guarnerius