Steve Robinson is a native of St. Louis. He received a Bachelor of Music Education Degree at the University of Missouri-Kansas City in 1979. While a student there he performed and recorded at the Montreux Jazz Festival (College Competition) won the Outstanding Jazz Soloist Award at the 1978 Mid America Jazz Festival and performed with the Kansas City Philharmonic, Richard Davis, Bobby Shew and Count Basie.
Upon Graduation Steve enlisted in the U.S. Air Force (Air Force Bands). Travel was extensive: Denmark, Greece, England, France, the Azore Islands, Sicily, Italy, Switzerland, Alaska, Hawaii and Ecuador He retired as a Master Sergeant in 2001 with 21 years of service.
Steve received a Master of Education-Administration Degree at the University of Missouri-St. Louis in 1989. He taught locally for 17 years and formed the St. Charles Community College Jazz Ensemble while an Adjunct Professor there. Most recently he has directed the Gateway City Big Band (two seasons).
Steve has performed with: the Temptations, Doc Severinsen, Manhattan Transfer, the Nelson Riddle Orchestra, Jack Jones, Milton Berle/Henny Youngman, Lou Christy, Pat Boone, the Stars of the Lawrence Welk Show, Bob Kuban, the Shriners Circus Band (locally for 8 years), the St. Louis Wind Symphony, the Gateway Brass Quintet, the Sessions Big Band, the Gary Dammer Big Band, Encore, Trilogy, El Caribe Tropical, Clave Sol and the Sentimental Journey Dance Band. Three Cruise Ship Gigs are also to his credit in Alaska, and twice in the Caribbean. A Solo CD: Leanne's Dance was released in 1998.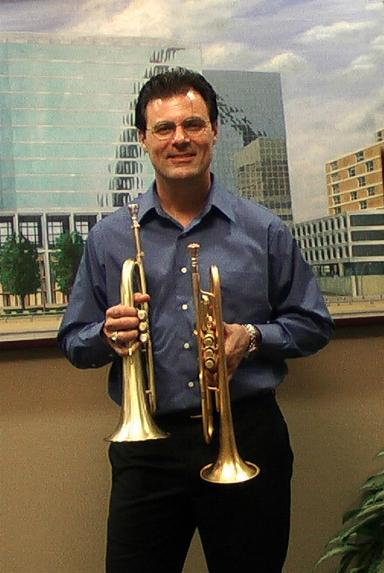 Steve plays the ZeuS Olympus trumpet and Zeus Guarnerius Fluegelhorn (both in ABL finish).